Above few extracts from the PP by Anna Zalewska presented in Georgia.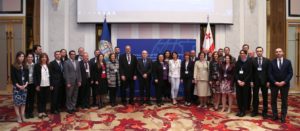 Photo after https://20years.opcw.org
Post factum Note*:
During the THE SIXTEENTH REGIONAL MEETING OF NATIONAL AUTHORITIES OF STATES PARTIES IN EASTERN EUROPE which took place in TBILISI, GEORGIA(3 – 5 MAY 2017) following issues were discussed:
Programme (4 mai 2017):
1. Dr hab Anna Zalewska,
ABEO member, Polish Academy of Sciences, University of Maria Sklodowska- Curie
Presentation on Education & Outreach in the context of remembering historical uses of Chemical Wapon on the Eastern Front. The speaker addressed issues particularly relevant to the Eastern European region such as Eastern European Gas-scapes as the Material Warning Monuments
2. Mr Waldemar Paturej,
Chief Legal Counsel, International Centre for Chemical Safety and Security
Delivered a presentation on chemical safety and security through scientific collaboration, and support the discussion and presented the concept of the second global chemical safety and security summit CHEMSS2017, which followed the first chemss2016, with an active OPCW participation.
3. Ms Elizabeth Abela-Hampel,
Deputy Head of the Anti-Terrorism Unit, Transnational Threats Department, Organisation for Security and Cooperation in Europe
Presented contribution to the regional and global security, addressing the threat posed by non-state actors.
4. Dr Detlef Maennig,
Vice President at Evonik Industries AG, on behalf of the European Chemical Industry Council, member of the International Council of Chemical Associations
Delivered presentation on the subject of chemical industry, safety and security.
The meeting was very inspiring,
thank you for the invitation,
Anna Zalewska
* some extracts of the description above were taken after
Vaclovas Semaskevicius
Substantative Officer for the Eastern European Region
Implementation Support Branch
International Cooperation and Assistance Division
OPCW